Ukraine Humanitarian Crisis: VOICE Members' response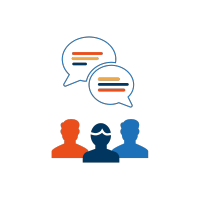 According to the United Nations High Commissioner for Refugees (UNCHR), currently, more than a quarter of the population of Ukraine has been forced to flee their homes. More than 4.3 million refugees have fled Ukraine, making it the fastest growing refugee crisis since World War II. In addition, 7.1 million people have been displaced internally. As always when a crisis happens, humanitarian NGOs have been at the frontline. They have been rapidly mobilising funding and support to deliver humanitarian aid in Ukraine and in the neighbouring countries in cooperation with many local partners, despite the difficult humanitarian access and International Humanitarian Law (IHL) violations.
They have been supporting the most vulnerable in the country – delivering food, assisting internally displaced people, protecting women and children on the move and carrying out other vitally needed humanitarian actions. The conflict in Ukraine has had a knock-on impact on humanitarian needs worldwide and has contributed to rising global food prices and economic instability. With the increasing funding gap and the growing needs, our joint efforts at European and national levels to advocate for principled humanitarian aid have been more relevant than ever.
Find here a collection of appeals, statements, and news from our members:
1 June
https://www.hi.org/fr/actualites/hi-assure-l-acheminement-de-l-aide-vers-les-zones-de-conflit – Humanity and Inclusion
20 May
https://drc.ngo/about-us/for-the-media/press-releases/2022/5/drc-signs-large-scale-agreement-in-ukraine-on-humanitarian-mine-action/ -Danish Refugee Council
13 May
https://www.kirkonulkomaanapu.fi/ajankohtaista/uutiset/kirkon-ulkomaanapu-avaa-toimiston-kiovaan-avustustyon-uusin-vaihe-panostaa-koulutukseen-pohjois-ukrainassa/ – Finn Church Aid
25 April
Action Against Hunger France's Recommendations- To Address the Global Impacts of the War in Ukraine - Action Against Hunger
30 March
Ukraine Emergency: Cesvi alongside the population in the country - CESVI
29 March
Finn Church Aid briefing paper: The international impact of the war in Ukraine from refugees to food safety - Finn Church Aid
23 March
Ukraine Crisis Regional Response Plan - We World
21 March
5 ways Caritas Czech Republic is helping people affected by the war in Ukraine – Caritas Czech Republic
17 March
War in Ukraine: Urgent action needed to protect and care for children – SOS Children's Villages International
13 March 2022
Fears for the plight of around 100,000 children living in institutions across Ukraine, unable to escape the conflict - CARE International
11 March 2022
Millions of children exposed to illnesses like hypothermia as big freeze hits Ukraine, says Save the Children - Save the Children
9 March
Ukraine Conflict Emergency Response: Situational Report - We World
8 March 2022
War in Ukraine shows devastating impact of heavy bombing and shelling on civilian population | HI – Humanity & Inclusion
Ukraine: Norwegian Refugee Council launches aid plan to support 800,000 people in need – Norwegian Refugee Council (NRC)
7 March 2022
Ukraine Emergency- On the Frontline for Refugees – INTERSOS
4 March
Joint I/NGO statement on humanitarian protection and access in Ukraine - Ukraine
3 March 2022
Immediate ceasefire needed to aid civilians in Ukraine - Norwegian Refugee Council
CARE response in Ukraine: Relief supplies have arrived in Lviv – Care International
2 March 2022
Providing Relief to people affected by the war in Ukraine - International Medical Corps, Croatia
Moving to Support Ukrainian Refugee Children – War Child
Concern has deployed an emergency response team to support the people of Ukraine – Concern Worldwide
Ukraine Crisis: Children's Appeal – Plan International, UK
1 March 2022
Stop further suffering in Ukraine - Caritas Europa
Protection of civilians in Ukraine conflict - Oxfam International
Ukraine: JRS in action to welcome refugees - JRS Europe
Ukraine: Bombing and shelling in populated areas cause incredible suffering for civilians – Humanity & Inclusion
CARE's response in Ukraine: First deliveries from partner organization on the way – Care International
28 February 2022
Financial aid for Ukraine is what we value most at the moment, says Klára Boumová – Caritas Czech Republic
War in Ukraine - give for emergency aid - ZOA
Emergency Aid To War- Affected Ukranians - Norwegian Church Aid
Ukraine: As the humanitarian crisis unfolds, GOAL deploys emergency response team – GOAL
27 February 2022
First shipment of relief supplies from ACT members shipped to Ukraine- Act Alliance
Caritas is helping in Ukraine despite ongoing fighting – Caritas Czech Republic
Aid transport has reached Ukraine - Malteser take care of refugees – Malteser International
First Three Trucks Carrying Humanitarian Aid en route to Ukraine, Two more will Join in Slovakia – People in Need
Ukraine:Attacks on schools endagering children's lives and futures– Save the Children
25 February 2022
Action Against Hunger statement on crisis in Ukraine – Action against hunger
Church Aid is raising funds to help Ukrainian families – Finn Church Aid
Support to the conflict-affected population of Ukraine Welthungerhilfe-Alliance 2015 members
Call for donations for Ukraine: Let's help the populations affected by the conflict – Care France
EU-CORD Ukraine Response - Eu Cord Network
24 February 2022
Children of Ukrain have a right to live in peace, urges Plan International – Plan International
Ucraina: la follia della guerra - Caritas Italiana
Fida is gathering emergency aid for Ukraine - Fida International
DRC response to violent escalation of conflict in Ukraine - Danish Refugee council
World Vision warns of significant risk to children in Ukraine crisis - World Vision
CARE Statement: Conflict escalation in Ukraine - Care International