World Humanitarian Day 2023: No Matter What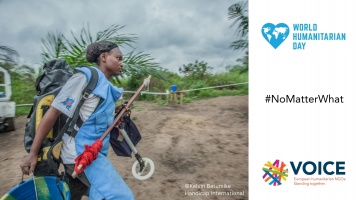 The World Humanitarian Day (WHD) is celebrated every year on August 19 to raise awareness about crises-affected communities and pay tribute to aid workers who are constantly striving and risking their lives to support them. This day was designated in memory of the 19 August 2003 bomb attack on the Canal Hotel in Baghdad, Iraq, killing 22 people, including the chief humanitarian in Iraq, Sergio Vieira de Mello. In 2009, the United Nations General Assembly formalized the day as World Humanitarian Day.
This year, the UN and its partners' goal is to highlight the challenges that humanitarians face when delivering humanitarian assistance, including rising geopolitical tensions, violations of International Humanitarian Law, attacks and disinformation campaigns, but also to celebrate their resilience in overcoming these challenges, to stay and deliver. The motto of this year's campaign, #NoMatterWhat, points to the importance of delivering principled humanitarian aid, no matter who, no matter where, no matter what. The campaign shines a light on the hundreds of thousands of volunteers, professionals, and crisis-affected people who deliver urgent health care, shelter, food, protection, water, and any type of aid following the humanitarian principles of Humanity, neutrality, impartiality and independence.
As every year, UN OCHA has prepared a dedicated online platform for WHD (under embargo until 14 August), which includes featured content and social media assets.
VOICE will join the #NoMatterWhat campaign and will further disseminate our publications:
The campaign will start on 14 August and last until World Humanitarian Day on 19 August.
We encourage everyone to join efforts in promoting principled humanitarian aid during the campaign.
Follow VOICE on Twitter and LinkedIn to amplify our messages and those of our humanitarian partners!