VOICE General Assembly 2023 - Key highlights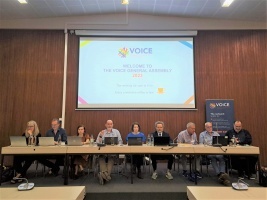 On 22 June, VOICE held its annual General Assembly welcoming three new members to the network: Ayuda en Acción from Spain, HIAS Europe, and Relief International France. We are delighted to count 89 members from 19 European countries implementing principled humanitarian aid worldwide amongst our members.
The day was filled with many activities and reflections on the network's achievement of 2022 and our collective efforts with regard to:
Championing the importance of humanitarian principles and promoting the added value of NGOs at the EU level
Advocating for an increased humanitarian allocation of the EU budget
Providing an NGO perspective to the European Humanitarian Forum
Calling for a humanitarian exemption to EU sanction regimes.
This year, we had the opportunity to welcome Ms. Mihela Zupancic Magovac, Acting Director E at DG ECHO, for a fruitful exchange on the challenges to bridge the funding gap and support more people in need, the next phase of the Grand Bargain and the DG ECHO localisation guidance note, among others.
The Assembly concluded with the election of three new VOICE Board members: Ruth Faber, EU Cord from Brussels, Charlotte Schneider, Action Contre la Faim from France, and Ruth Watson from Act Alliance EU Office Brussels were elected for their first mandate while Edouard Rodier, NRC EU Office Brussels, was elected for his second mandate.