Fighting hunger: a women-led response - Event highlights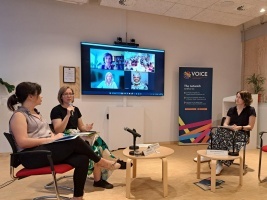 Women produce more than half of the food worldwide and have been leading the response to the global food crisis. Despite their central role, they are more likely to be affected by hunger. Because of the disproportionate impact of food crises on women and girls, it is undeniable that humanitarian responses must be gender-sensitive, and women-led.
How can humanitarian practitioners and donors contribute to creating an enabling environment for local women to play a leading role in the hunger crisis response? What are the current obstacles to do so, and how can we overcome them? The event 'Fighting hunger: a women-led response' tried to reply to these questions looking at the role of women in the fight against hunger worldwide. For the first time, VOICE invited to a debate about an important humanitarian topic with a feminist perspective.
For the occasion, Cristina Gutiérrez Hernández, Humanitarian Director of the Agencia Española de Cooperación Internacional para el Desarrollo, presented the priorities of their upcoming Spanish Presidency of the Council of the EU. One of their five priorities focuses on gender, specifically on the protection against gender-based violence and the inclusion of women-led organisations in humanitarian responses.
Amongst our speakers, we welcomed five women with expertise in different areas of humanitarian response and food insecurity research. Mimidoo Achakpa, National Coordinator of the Women in Humanitarian Response in Nigeria Initiative, described the benefits of including women in humanitarian response and the important role they play by gaining trust from local communities. Floriane Clement, Senior Researcher at the French National Institute for Agriculture, Food and Environment, explained the importance of data collection and research from an intersectional approach to understand the correlation between gender and food insecurity in different contexts. Megan Daigle, Senior Research Fellow at ODI, highlighted the importance of the role of women in understanding gender dynamics and norms in varying circumstances and in different social contexts, and how this knowledge must be taken into consideration when implementing humanitarian response. Cheryl Harrison, Deputy Director of the Cash-Based Transfers Division at the World Food Programme (WFP), presented the way in which the WFP approach towards gender changed in the last years, giving more power and dignity to women by providing them with cash assistance. From the VOICE membership, Kirsten Sutherland, Humanitarian Coordinator at Alianza por la Solidaridad, explained how women are more heavily affected by humanitarian crises and food insecurity, and how the organisation tries to address the issue with a feminist approach.