When War Comes Home - Photo Exhibition - People in Need Czech Republic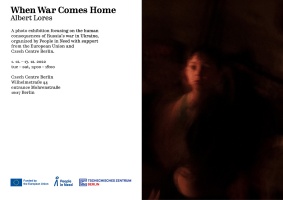 Photo exhibition focusing on the human consequences of Russia's war in Ukraine
There has not been a single person in Ukraine left unaffected by the ongoing Russian invasion of their country. Every single day since the 24th of February, 75 Ukrainians have been killed or injured, and 1 in 4 Ukrainians have been forced to flee their homes. Hundreds of thousands do not have a home to return to, and millions more are forced to live without water, electricity, gas supplies and no heating for months. All people in Ukraine live with the threat of rockets and airstrikes; these can bring death and destruction at any time and to any place. Further still, all people in Ukraine live under tremendous psychological pressure—many have suffered scars of war that may not be visible but whose impacts are long lasting.
This exhibition aims to bring their stories to light, describe how their lives have changed since Russia invaded their home, and highlight that these are real people with their own faces, and families, who could be any of us or our relatives and friends here. The exhibition intends to show the reality of millions of peaceful people trapped in a war that came to their homes.
The exhibition is organised by People in Need with the support from the European Union and the Czech Centre Berlin.
OPENING HOURS
01. 12. 2022 – 17. 12. 2022, Tue – Sat 14:00 – 18:00