Humanitarian principles under threat? The Brussels launch of the State of the Humanitarian System Report 2022 and VOICE 30 years' anniversary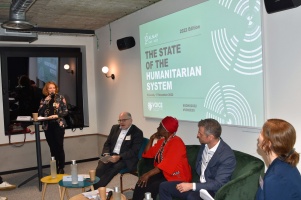 What are the challenges NGOs face in respecting humanitarian principles and what is the role of donors in the delivery of principled aid? VOICE, in collaboration with ALNAP, hosted the Brussels launch of the ALNAP State of The Humanitarian System (SOHS) report 2022 on 17 November with the aim of triggering reflections on the current situation of the humanitarian system. VOICE Director, Maria Groenewald, moderated the panel debate which started with an introductory speech by Heidy Rombouts, Director General for Development Cooperation and Humanitarian Aid of the Belgium MFA, on the Belgian role as principled humanitarian donor.
"A major finding of the SOHS2022 was that humanitarian space appears to be shrinking. While the number of people affected by crisis increased, the ability of humanitarians to support them became even more compromised." Sophia Swithern, the ALNAP consultant and one of the co-authors of the report, addressed the main findings of the report with a particular focus on the shrinking humanitarian space.
The panelists discussed around two main topics:
How do humanitarians handle the trade-offs between delivering aid and delivering it impartially and independently?
How do humanitarians manage to tread the difficult balance between pursuing access and speaking out against violations of humanitarian and human rights law?
Dr Knut Doermann, Head of Delegation to the EU, NATO and the Kingdom of Belgium, of the ICRC, spoke about their role in supporting the application of the humanitarian principles in complex settings and how the organisation works to create an enabling environment where they are respected.
Andrea Koulaimah, Director of Directorate D of DG ECHO, shared the donor perspective on how they are supporting humanitarian agencies in delivering principled humanitarian aid.
Dr Mary Okumu, Senior Director & Head of Technical Unit, of the NGO ForAfrika, focused on local communities and the importance to put them at the centre of attention. ForAfrica considers people in need as partners and not as beneficiaries in finding solutions with them when delivering aid.
Last but not least, Andreas Ring, Global Programme Director of our member Danish Refugee Council, spoke about the concrete barriers faced by organisations when delivering aid and how the 'Do no harm approach' is hampered if humanitarian principles are not respected.
The event was also the occasion to celebrate the 30 years' anniversary of VOICE and to share key achievements of the network in promoting principled humanitarian aid.
Click here to read the key highlights of VOICE from the event!