VOICE out loud 33: Enabling Principled Humanitarian aid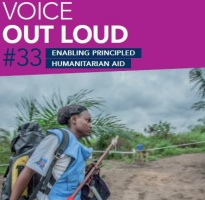 The new VOICE out loud is here!
The current edition of VOICE out loud 33, Enabling Principled Humanitarian Aid , is out now. This issue addresses the challenges humanitarian workers face in the delivery of humanitarian aid and how they seek to overcome them. Each article provides a unique perspective and addresses several key topics such as: the existing humanitarian funding model, the impact of IHL violations and the donor sanctions regime on the delivery of humanitarian aid, the access issues and the Ukraine conflict.
The first article from INTERSOS gives an overview of how INTERSOS tried to reach the most vulnerable in Afghanistan, coordinating with the authorities at all levels of government to ensure principled assistance and support to the population in need. The second article, penned by the Consortium formed by Action Contre la Faim – Humanity and Inclusion – Médecins du Monde, outlines the risks humanitarian workers face while assisting those affected by conflict and how it is important to create initiatives to ensure their safety. The following article by Action Contre la Faim – France sheds light on how the Russian-Ukraine conflict has sparked an immense humanitarian crisis and the role the EU has to play in changing its humanitarian funding model.
Applying humanitarian exemptions is one way to mitigate and lessen the impact of sanctions on principled humanitarian action. This has been explained in the next article written by the Norwegian Refugee Council.
Goal Global explores in its article how the Crisis to Resilience Framework in north west Syria can successfully achieve Disaster Risk Reduction (DRR) and support local systems in fragile and conflict affected contexts (FCACs), responding to immediate humanitarian needs and building longer-term resilience. The next article from Caritas Czech Republic emphasizes its humanitarian aid work in Ukraine alongside with local Caritas organisations in Ukraine and its participation in the humanitarian response it has become a part of in Moldova.
The VOL concludes with an interview with Knut Dörmann, Head of Delegation to the EU, NATO and the Kingdom of Belgium International Committee of the Red Cross (ICRC) who enlightens us more on the International Humanitarian law and the role of the ICRC in upholding it.