Humanitarian Partnership Updates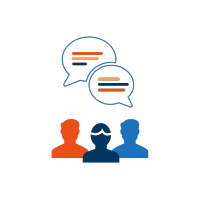 At the beginning of this year, the VOICE Secretariat launched the Humanitarian Partnership (HP) Watch Group renewal process (former FPA Watch Group). The Humanitarian Partnership defines the relationship - regulations and responsibilities - between DG ECHO and its partners, the humanitarian organisations delivering EU funded aid. An EU Humanitarian Partnership Certificate is awarded to organisations that, as a result of the positive assessment of their partnership application are considered suitable to apply for EU funding for the implementation of humanitarian aid actions.
VOICE has been facilitating for years the Humanitarian Partnership Watch Group, which represents the views of DG ECHO's certified NGO partners in the monitoring, review and consultation of all matters relating to the Humanitarian Partnership 2021 – 2027.
What does the group do?
Work towards a common interpretation and consistent application of the HP.

Defend the general interest of all DG ECHO certified NGO partners as related to the HP
Collect, organise, and analyse any difficulties working with the HP, as well as any planned or potential changes to the HP, from the point of view of DG ECHO NGO partners
The periodic renewal of this long-standing working group is important to maintain a sufficient level of representativity of the wider DG ECHO NGO partners community and to empower the group in its interaction and exchanges with DG ECHO.
We are happy to announce that this process has been finalised and that the new group's composition has been adopted.