Localised anticipatory humanitarian action to minimise effects of climate change and reduce the risk of food insecurity - Welthungerhilfe on the VOICE out loud 34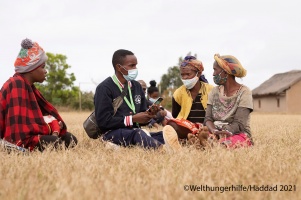 How can innovative approaches help humanitarians in the fight against hunger?
In this article, Welthungerhilfe explains how Forecast-based Action (FbA), a form of anticipatory action based on weather forecasting, is key to preventing the negative impacts of extreme weather events, and the consequent human suffering.
Welthungerhilfe and its local partners are using the FbA approach to anticipate droughts before they unfold, making it possible through community-based Early Action Protocols to respond quickly to hazards in a prompt and efficient manner before damage and suffering take place.
At a time of unprecedented humanitarian stress, this approach offers other added values:
It ensures a more efficient and targeted use of limited resources, which is very beneficial at a time when the funding gap does not stop growing.
It is designed in a localised manner, built upon the needs of local communities and stakeholders, which will ensure the sustainability of the approach.
Click here to read the article
Click here to read the whole VOICE out loud issue: "Fighting against hunger: a humanitarian lens"