Floods in Pakistan: CESVI's intervention in the disaster symbol of the climate crisis - CESVI on the VOICE out loud 34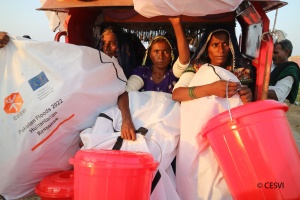 In June, torrential rains - three to five times more intense than the average of the last 30 years - hit Pakistan affecting more than 33 million people.
CESVI has been present in Pakistan since 2005, primarily working in capacity building to prepare local populations for natural disasters and catastrophes and implementing the "river water monitoring system", another anticipatory action approach to prevent the negative effects of floods.
This approach has helped save lives during the last floods in the country, but, given the intensity of the last floods, the current situation remains dire. An extremely vulnerable population, the spread of diseases due to stagnated water from the floods, and the hunger crisis add to the crisis in Pakistan.
Apart from the previously mentioned anticipatory approach, CESVI is continually working to assist the affected populations by implementing cash, food, and emergency kits distribution.
Click here to read the article
Click here to read the whole VOICE out loud issue: "Fighting against hunger: a humanitarian lens"