Conflict and hunger in eastern DR Congo: building resilience within compounding crises – Mercy Corps on the VOICE out loud 34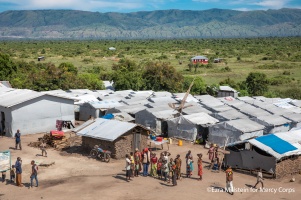 The article by Mercy Corps analyses the humanitarian crisis in the Democratic Republic of Congo (DRC), one of the most complex and long-standing ones in the world.
In DRC, food security issues are exacerbated by conflict. In the eastern part of the country, displacement happens suddenly and continuously due to armed clashes, which leaves families dependent on agriculture without their means of living.
Solutions to the complex combination of threats in DRC are not easy. According to Mercy Corps responses must be multisectoral, and address the underlying drivers of food insecurity while helping communities cope with future shocks and become more resilient. And again, multisectoral and long-term solutions depend on further funding from donors.
Some of these multisectoral and integral responses have been implemented by Mercy Corps in DRC, demonstrating that the triple nexus can achieve results in a totally protracted and complex crisis such as the one in DRC.
Click here to read the article
Click here to read the whole VOICE out loud issue: "Fighting against hunger: a humanitarian lens"