Hunger is a feminist issue - Alianza por la Solidaridad on the VOICE out loud 34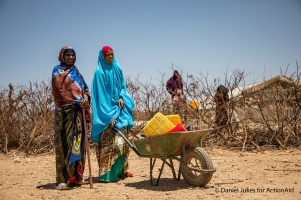 Women and girls are the most vulnerable when a hunger crisis strikes. In fact, 70% of all people currently in urgent need of food assistance are women or girls. However, 90% of the time, they are responsible for purchasing and preparing food for their families.
In this article, Alianza por la Solidaridad explore the role of women and girls in the fight against hunger. A role that proves to be critical, as they are instrumental in each of the three components of food security: availability, access, and utilization.
Considering the key responsibility women and girls have in the food security system, it proves vital to ensure that they benefit from humanitarian funding, that women-led organisations and responses are valued accordingly, and that they take an active part in the decision-making process in the fight against hunger.
"We believe that hunger is a feminist issue, and that any effective response must necessarily be feminist."
Click here to read the article
Click here to read the whole VOICE out loud issue: "Fighting against hunger: a humanitarian lens"