Climate resilience: We need to act now!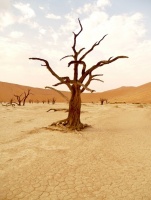 Climate change, together with conflicts and the Covid-19 pandemic (the three Cs), is one of the main drivers of humanitarian needs. The most vulnerable and marginalised communities, who have historically contributed the least to climate change, are the hardest hit. Humanitarian NGOs are working to deliver life-saving aid, contributing to enhancing resilience in climate-affected communities through preventions measures and anticipatory actions. To raise awareness on the need for the European Union (EU) and its Member States (MS) to step up efforts to address the climate crisis and its effects, VOICE launched a Position Paper outlining the key role of humanitarian NGOs in addressing climate change and environmental degradation and setting clear recommendations for the EU and its MS on how to enhance climate resilience:
Step up efforts to scale up climate finance aimed at building climate resilience.
Ensure climate measures include locally-led adaptation actions and prioritise vulnerable and marginalised people, especially women and girls.
Enhance strong collaboration with other actors to promote climate resilience.
The Position Paper was launched at the European Humanitarian Forum Preparatory Webinar on Climate "Tackling the humanitarian consequences of climate change: Scaling up anticipatory action" on 14 December 2021. This warm-up webinar was jointly co-organised with DG ECHO, the Anticipation HUB and the France presidency of the Council.