The First European Humanitarian Forum – VOICE's reflections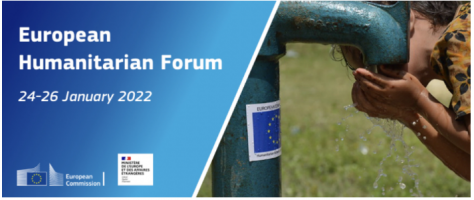 Jointly organised by the French Presidency of the Council of the European Union and the European Commission, the European Humanitarian Forum (EHF) took place in March 2022 in Brussels. Aimed at finding common solutions to the most pressing humanitarian challenges by bringing together the EU, its Member States and the wider humanitarian community including many humanitarian NGOs, the Forum provided a platform for policy discussions around the most urgent humanitarian topics.
Recognising the necessity of such a platform, VOICE worked intensely to shape the Forum in its early preparation advocating for our members to have the appropriate space during the Forum. Furthermore, VOICE launched the "VOICE Statement ahead of the European Humanitarian Forum" to call on the EU (European Union) and its MS (Member States) to use the high-level meeting as an opportunity to address the challenges of rising humanitarian needs, identify solutions to preserve humanitarian space and ensure the delivery of principled humanitarian aid.
In the opening session of the Humanitarian Forum, VOICE President Dominic Crowley highlighted how EU Member States can take an active part to prevent hunger and starvation, which are too often used as weapons of war. In the session dedicated to the Humanitarian Impact of Climate Change and Environmental Crises, VOICE Director Maria Groenewald emphasised why NGOs play a key role in working with local partners to enhance climate resilience in fragile and conflict-affected contexts.
At the margins of the Forum, VOICE colleagues and Board Members used the opportunity to exchange with the former Director General of DG ECHO, Ms. Paraskevi Michou and other DG ECHO colleagues and partners. The meeting proved to be an important starting point to discuss the future of the DG ECHO's Partners' Conference, the funding packages for Ukraine and the next steps after the Forum.
Based on the various exchanges and intake from the Forum, VOICE published the 'VOICE reflections on the European Humanitarian Forum 2022'. The statement highlights some key messages like the importance of providing space to discuss humanitarian policies and to use the EHF as a starting point to accelerate policy discussions at EU level and beyond. Furthermore, it calls on future Forums to complement these events with specific agreed outcomes. Thus, the network stands ready to contribute actively to the shaping and agenda setting of the next Forum in 2023.