WeWorld - Invitation to the #ClimateOfChange event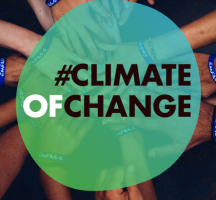 WeWorld, Magdaclan contemporary circus company and FLIC circus school are pleased to invite you to the Belgian premiere of the #ClimateOfChange Tour, to be held at Tour&Taxis in Brussels on Wednesday 10 November at 7.30 pm.
In the show the artists want to engage the audience in understanding the complex relationship between climate change and migration to create a movement of informed people ready to change their lifestyles and demand new development policies. The acrobats will stage a dramatic representation of the climate crises taking place in different corners of the world, portraying entire populations brought to their knees by floods, melting Arctic permafrost, desertification and fires. How will they manage to deal with these issues, with just a few objects and words?
If you cannot attend on 10 November, the show will also take place on 11, 12 and 13 November.