Successful VOICE engagement on EC Financial Regulation revision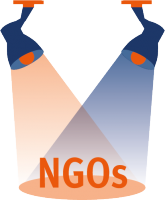 Thanks to our collective input, VOICE's advocacy efforts on the negotiation of the EU Financial Regulation was successful with key achievements regarding simplification and compliance. The Financial Regulation is the basis for all rules and requirements applying to all recipients of EU funding and defines the scope in which the FPA between ECHO and its NGO partners is defined.
The VOICE network, through collaboration with Civil Society Europe, had been tracking the revision process closely since the EC launched a consultation back in Spring 2016. After months of negotiations, the final result of the trialogue was published last week.
The main successes relate to:
Outputs and results: definitions of outputs and results have been introduced
Assessment and audits: cross reliance on assessment and audits is adopted, and the need for the EC to harmonize its reporting requirements with other donors is recognized
Trust Funds: remain limited to external actions, and discussions to establish them will more fully involve the EP and Council with the EC reporting monthly on their use
Indirect costs: the maximum percentage remains at 7% of direct costs with possibility of exceptions
These successes are important since they provide potential for simplification of the next FPA ahead of the upcoming consultation with ECHO.
The Secretariat waits for the full version of the new Financial Regulation to be officially adopted for a more in-depth review of the document, which should take place before Summer 2018. This new Regulation should be applicable as of 3 days after its publication in the official journal of the EU.