VOICE Policy Resolution 2023 - World hunger is rising sharply: let's stop it NOW!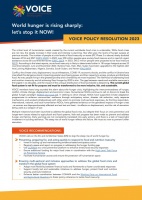 The VOICE Policy Resolution 2023 "World hunger is rising sharply: let's stop it NOW!" is out!
As the steady increase in the scale and intensity of hunger is alarming, VOICE, the largest network of European humanitarian NGOs, calls on donors to act now to break the global hunger paradigm.
The objective of the Policy Resolution is on the one hand to stress the need to act quickly to prevent famine and protect food and nutrition security, and on the other hand, to stress the inadequacy of the current global food system that is not fit for purpose and needs to be transformed to be more inclusive, fair, and sustainable. Taking these two aspects into account, VOICE included a series of recommendations for the EU and its Member States to stop the steep rise of world hunger:
Preventing, preparing for, and acting quickly to respond to food and nutrition insecurity
Invest in scaling up and mainstreaming evidence-based anticipatory action
Regularly assess and report on progress in addressing the hunger funding gap
Use COHAFA as a crisis prevention platform to enhance timely food security responses
Ensure additional funding for major food crises in coordination with the High-Level Task Force on Preventing Famine
Facilitate humanitarian access and ensure the protection of humanitarian space
Ensuring multi-sectoral and inclusive approaches to address the global food crisis and transform the global food system
Adopt more flexibility between financial tools and frameworks to foster coordinated responses
Support locally led and sustainable initiatives to address hunger, protect food and nutrition security, and build resilience
Enhance better coordination between COHAFA and the Working Party on International Food and Agricultural Questions to foster policy coherence to tackle food insecurity
Click here to read the VOICE Policy Resolution 2023, download it and share it!