Reconnecting hope: TSF on the importance of communication for people in crises - Télécoms Sans Frontières on the VOL 35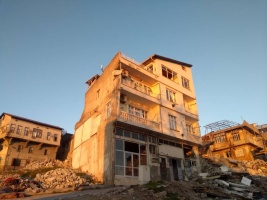 In the "A closer look" section of our VOICE out loud, Télécoms Sans Frontières showcases their unique work. TSF's focus differs from other NGOs as they specialize in restoring telecommunications after sudden crises and emergencies, reconnecting people with their loved ones and enabling the work of other relief actors on the ground.
Over the course of 25 years, TSF has adapted to the changing landscape of telecommunications. Recognizing the internet's pivotal role in communication and information sharing, TSF now prioritizes three key aspects: ensuring connectivity, facilitating access to reliable information, and promoting digital inclusion. By addressing these elements, TSF effectively assists individuals affected by crises, addressing their fundamental needs in an increasingly interconnected world.
In this article, TSF also examines how they intervene in sudden crises such as the recent earthquakes in Türkiye and Syria, the crisis in Ukraine, and their efforts in closing the digital gap in Madagascar.
Click here to read the article by Télécoms Sans Frontières
Click here to read the whole VOICE out loud issue: "Localisation: exploring a multifaceted agenda"