VOICE out loud 34 - Fighting against hunger: a humanitarian lens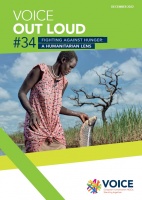 The current food insecurity crisis is killing people, destroying lives and human dignity, and affecting all of us. What can humanitarian actors do to face a humanitarian crisis that is only expected to worsen?
In this issue of the VOICE out loud, NGO members delivering humanitarian aid in some of the world's most food-insecure countries stress the intertwined connections among hunger, conflict, and climate change. And they make an urgent call for donors to break the current global hunger paradigm.
The first article from Concern Worldwide gives an overview of the worsening hunger pattern and sheds some light on how to stop the current deteriorating trend. The article from Action Against Hunger Germany focuses on the political sphere and how it must approach climate change as one of the main drivers of food insecurity. Alianza por la Solidaridad - ActionAid highlights the role of women in the fight against hunger and the impact of women-led responses. The following article, by Mercy Corps, emphasizes the importance of the nexus approach and building resilience in the fight against hunger. And lastly, Welthungerhilfe highlights the key role of anticipatory actions to save lives and prevent damage.
In the "A closer look" section, CESVI focuses on the organisation's work in Pakistan supporting the communities affected by the latest floods and on how they are implementing capacity building at the local level to create more resilient communities.
To conclude this edition of the VOICE Out Loud, we have interviewed Andreas Papaconstantinou, the Director-General of Neighbourhood and Middle East at DG ECHO, who addressed the hunger crisis from the point of view of the EU, the efforts from DG ECHO to narrow the funding gap, the application of the triple nexus to the issue of hunger, and the coming European Humanitarian Forum.