Funding Imbalances: How uneven prioritisation and insufficient funding affect humanitarian aid - VOICE key highlights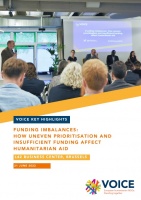 The number of people in need of humanitarian assistance has risen steadily, mostly as a consequence of conflicts, climate change and Covid-19 (3 Cs), recently aggravated by increased food insecurity generated by the conflict in Ukraine, and with it the need for more funding. On 21 June, VOICE invited several panelists to discuss around the topic of funding imbalances affecting the humanitarian system.
To discuss this funding-related issue, VOICE invited Vince Chadwick (Devex), Arnaud Dupont (DG ECHO), Céline Mias (CARE International), Milward Mwamvani (LM International), and Martin Scott (University of East Anglia) to discuss around the following topics:
Is it possible that due to extremely high media visibility and political impact some crises attract substantially more funding than other crises where needs are similar?
How the previously mentioned problem can create a major challenge for humanitarian organisations in managing ongoing humanitarian crises, leading to serious hardships for people in need.
The recently published report gathers and summarises the key highlights of the event. First presenting the most interesting findings during the panel debate, and then introducing our own recommendations on the issue of funding imbalances:
Increase humanitarian funding at both EU and Member State levels
Respect humanitarian principles in funding decisions
Increase the efficiency and effectiveness of humanitarian funding
To read the entire report with VOICE recommendations and the main highlights of the panel debate, click here.