VOICE out loud 32- Coordinated, multi- annual, flexible, and programmatic funding : A Perspective from Germany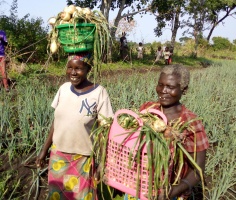 The article by Malteser International explains how integrating humanitarian, transitional, and development funding is essential to building the Humanitarian- Development -Peace -Nexus approach.
For the World Humanitarian summit (WHS), The German Federal Foreign Office (FFO) and the Ministry for Economic Cooperation and Development (BMZ) have agreed to multi-annual and programmatic funding to further boost the nexus' implementation. Furthermore, the coordination between FFO and BMZ also allowed for a flexible transition from humanitarian assistance to a transitional approach. Malteser International was the first to pilot in a programmatic funding by FFO and their experience shows that this enables more flexible and adaptive nexus programmes in crisis settings.
Click here to read the full article!
Click here the whole VOICE out loud issue: "The EU Member States' implementation of the humanitarian-development-peace nexus"