The new Sphere Handbook is out! The most known tool for the delivery of the quality humanitarian aid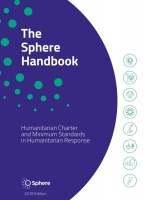 The Handbook is one of the most widely known and internationally recognized tools for the delivery of the quality humanitarian response. National and international NGOs, United Nations agencies, and governmental authorities across the globe make use of its guidance when planning, delivering and evaluating humanitarian operations.
The Sphere Handbook is Sphere's flagship publication. It comprises the Humanitarian Charter, the Protection Principles, the Core Humanitarian Standard, and minimum humanitarian standards in four vital areas of response:
Water supply, sanitation and hygiene promotion (WASH)
Food security and nutrition
Shelter and settlement
Health
The Sphere Handbook is the oldest initiative in the field of humanitarian standards. It has been field-tested over twenty years and regularly updated to ensure it remains fit for purpose in a changing world.