The VOICE out loud number 32 is out!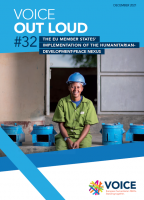 The new VOICE out loud "The EU Member States' implementation of the humanitarian-development-peace nexus" focuses on how VOICE members and EU Member States are interpreting and implementing the triple nexus according to our members' perspective.
On this issue, VOICE members based in Denmark, Finland, Germany, Italy and Sweden have been asked to share their views on how their respective governments are approaching the implementation of nexus Programmes, building on the 4 recommendations highlighted in the VOICE report 2019 "NGOs Perspectives on the EU's Humanitarian-Development-Peace Nexus":
Ensure a nexus approach, in line with humanitarian principles
Build on NGOs' experiences and learn lessons
Adapt financial frameworks and tools to a nexus approach
All relevant actors need to work towards a culture shift
Furthermore, the issue features an interview with the Director of the European Peacebuilding Liaison Office (EPLO) on the peace part of the nexus and an article from ACBAR on Afghanistan and the challenges NGOs are facing in the delivery of aid.