The EC communication on EU Humanitarian Aid is out!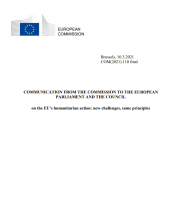 Today, the Commission has released its Communication on the EU's humanitarian action: new challenges, same principles.
The document proposes a series of key actions to expedite the provision of humanitarian aid by expanding the resource base, supporting a better enabling environment for humanitarian partners, and addressing the root causes of crises. Click here to read the EC Press Release.
VOICE, together with other key stakeholders, was consulted by DG ECHO on the Communication and asked to send written contributions to a number of questions regarding the funding gap, the promotion of IHL and humanitarian principles among others.
Ahead of the communication, the EU asked EU citizens their opinion on EU-funded humanitarian activities. 91/% of respondents expressed a positive opinion on EU humanitarian aid and 4 in 10 respondents consider that funding should be increased. Click here to see the special Eurobarometer Report.