EU citizens support EU Humanitarian aid: Latest Eurobarometer findings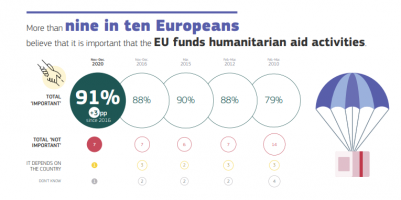 More than 90% of EU citizens believe is important that the European Union funds humanitarian aid activities. These are the latest findings of the Eurobarometer 2021 on Humanitarian Aid published today by the European Commission. Furthermore, 82% of Europeans feel pride, enthusiasm, or satisfaction when thinking about the EU being one of the main donors of humanitarian aid, and 9 in 10 support the delivery of Humanitarian Assistance to countries outside of the EU affected by the COVID-19 pandemic.
These data show an increase in positive opinions expressed by European citizens regarding the several humanitarian projects funded by the EU and implemented by its partners NGOs, UN, and Red Cross. Compared to the latest 2016 Eurobarometer on the matter, the share of people that find EU humanitarian aid important has increased by 3%, and the number of people aware of the EU humanitarian aid activities has increased by 4 %.
When asked about the level of funds, half of all respondents believe that the EU should sustain existing levels of support for humanitarian aid, whilst four in every ten individuals consider funding should increase. EU citizens seem also very clear on the role the EU should play in the delivery of aid. 74% of the respondents say that EU aid is more efficient if coordinated and provided by the EU.