OCHA-NGO CBPF Dialogue Platform- Save the date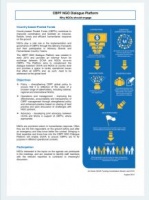 The next OCHA-NGO CBPF (Country- based Pools Funds) Dialogue Platform, will take place on:
Wednesday 6 March 2019 in Juba, South Sudan (all-day event).
The Platform traditionally alternated between a global meeting held in Geneva and a field-based meeting taking place in a regional hub (Nairobi and Amman in the past). Recognizing the need for the Platform to get closer to those engaging in daily work within the CBPFs and gather valuable experiences and points of view for the global policy discussion, the co-chairs of the Platform, OCHA and NRC, supported by the core-group (IRC, Oxfam, Welthungerhilfe, Nile Hope tbc), have decided to pilot a country-specific approach.
South Sudan was chosen as the location of the first country-based dialogues Platform given the interesting profile of the Country Based Pooled Fund in terms of total volume, number of national, international, and UN partners, size and number of projects funded, and the relevance of the humanitarian response.
The OCHA-NGO CBPF Dialogue Platform provides NGOs with a chance to actively engage in an open dialogue with OCHA at a strategic level, and complement the day-to-day interactions taking place in the field. Whether you are a current or prospective NGO partner, this event is for you!
More details including the agenda, time and venue will be shared around mid-February. The meeting will be divided in two broad parts:
The morning session will focus on global topics of concern to the CBPFs and NGOs.

As agreed at the previous Platform meeting, an invitation to participate to part of the Platform will be extended to a donor representative.

The afternoon session will focus on strategic issues related to the South Sudan Humanitarian Fund. It is important to stress that the discussion should remain at the strategic level and does not intend to substitute the 'local' NGO-OCHA dialogue in South Sudan, but rather raise challenges and/or best practices of interest to the global community.

The co-chairs will be in touch with South Sudan based NGOs as well as CBPF Advisory Board NGO members to solicit input for the agenda. Please channel your feedback through them whenever possible, or reach out directly at the address below.
Important information:
RSVP for this event is required. Please do so here
If you need an invitation letter to process a visa application, please send a message to cbpf-ngo@un.org by 13 February.
Due to connectivity challenges, we are unable to confirm whether the event will be live-streamed online as it was customary in the past.