World Humanitarian Day- Honours the Humanitarians #Ittakesavillage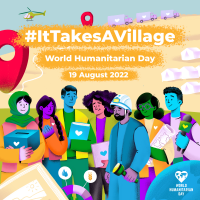 The World Humanitarian Day is celebrated every year on 19 August after the brutal bombing attack in Baghdad in 2003 where 22 aid workers lost their lives. Since then, the day has become an occasion to honour the life-saving role aid workers have in supporting crisis-affected people and to shed a light on the humanitarian crises all over the word.
For the World Humanitarian Day 2022, the UN and its partners' campaign focused on the importance, effectiveness, and positive impact of humanitarian work. The hashtag for this year #ItTakesAVillage, exemplified the idea that like the African say it takes a village to raise a child, it similarly takes a community to support a person in a humanitarian crisis. The campaign shed a light on the hundreds of thousands of volunteers, professionals and crisis-affected people who deliver urgent health care, shelter, food, protection, water and much more to people in need all over the world.
VOICE joined the campaign showing the struggle humanitarian workers face to reach people in need with the recently published VOICE out loud "Promoting principled humanitarian aid". The current magazine highlights the multifaceted aspects of humanitarian aid, throwing the spotlight on the collective endeavour to grow a global appreciation of humanitarian work.