"The Journey That Never Ends. Leaving Everything Behind to Start Again." - Stories of Refugees and Migrants from Venezuela
19:00 - 20:00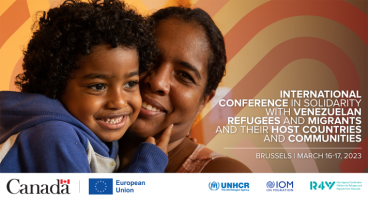 Cinema Galeries
Galerie de la Reine 26 Brussels Belgium
Add to calendar
The UN Refugee Agency (UNHCR), the International Organization for Migration (IOM) and the Inter-Agency Coordination Platform for Refugees and Migrants from Venezuela (R4V) invite you to the premiere of "The Journey that Never Ends." The screening will take place during the 2023 International Conference in Solidarity with Venezuelan Refugees and Migrants and their Host Countries and Communities, co-organized by the European Union and Canada.
Time and venue
The screening will take place on Thursday, 16 March 2023, at 19:00 (seating at 18:45), followed by a reception with hors d'oeuvres at 20:00.
Location: Cinema Galeries, Galerie de la Reine 26, Brussels.
Registrations are closed.
Please note: The film is in Spanish with English subtitles. To facilitate a timely start, we ask that you to please arrive at 18:45.