Hearing at the Committee on Budgets - EU external action and crisis response: is the EU budget fit for purpose?
14:30 - 17:00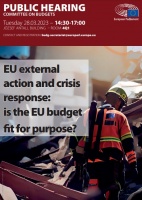 European Parliament
Brussels
Add to calendar
The Committee on Budgets will hold a public hearing on the EU budget and its impact on the EU external action and its crisis response capacity. The Committees on Foreign Affairs and Development are invited to participate in the hearing.
The experts who will share their insights are:
Prof. Esther Duflo, Abdul Latif Jameel Professor of Poverty Alleviation and Development Economics, Department of Economics, Massachusetts Institute of Technology, 2019 Nobel Prize for Economics
Ms Francesca Giubilo, Director ad Interim, Voluntary Organisations in Cooperation in Emergencies (VOICE)
Mr Andreas Papaconstantinou, Director for Neighbourhood and Middle East, DG ECHO, European Commission
Ms Mariella Di Ciommo, Associate director - Europe and Africa in the world, European Centre for Development Policy Management (ECDPM)
To download the programme of the hearing, click here.
To watch the hearing click here