Exhibition - BOMBED. Lives to be rebuilt
18:00 - 20:00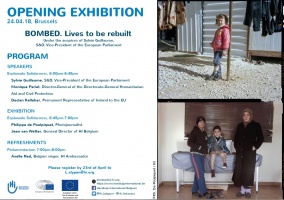 European Parliament
Esplanade Solidarnosc
Brussels Belgium
Organised by members
Public event
Add to calendar
As it enters its 8th year, the Syrian conflict reached unprecedented levels of violence, with 13.1 million Syrians in need of urgent humanitarian assistance and 5.5 million Syrians registered refugees. Most Syrian civilians, who bear the brunt of the war, have been displaced within and beyond Syria's borders multiple times, escaping bombing and shelling in populated areas, socio-economic deprivation and other grave humanitarian and safety concerns.
The EU is hosting the 2nd Donor Conference on Syria on the 24-25th April. Humanity & Inclusion (former Handicap International) organizes the Exhibition "Bombed. Lives to be rebuilt."
The official opening will take place on Tuesday 24th of April, from 6 to 8pm, on the European Parliament esplanade in Brussels. This exhibition, funded by ECHO, features pictures from Philippe de Poulpiquet as well as testimonies of Syrian refugees in Jordan and Lebanon. The opening event will gather high level representatives from States, EU institutions, UN and NGOs, with the aim to raise their attention to the Syrian crisis response. A series of key-note remarks will be delivered by high-level representatives, before refreshments at the Parlamentarium.
Due to limited space, thank you for registering by 23rd of April to Lucie Slypen : l.slypen@hi.org