Centering community voice to drive sustainable change in Syria
16:00 - 18:30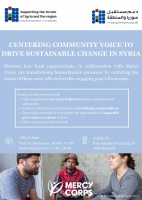 Atelier 29
Rue Jacques de Lalaing 29 Brussels Belgium
Organised by members
Public event
Add to calendar
One of the most critical topics in the evolving response to the Syrian crisis is how to shift the focus and inputs to those most affected, build local ownership and accountability, as well as informing humanitarian needs and processes.
The event aims to showcase the work of local organizations collaborating with Mercy Corps in Northwest and Northeast Syria, as well as the experience of local participants already engaged in community-led approaches. It will feature a panel to share about community-led approaches and how the humanitarian community can ensure programming is led and informed by the needs articulated on the ground. Panelists will share the benefits and best practices of mobilizing communities, and how existing processes and systems can change to better incorporate community voice. Based on examples such as Mercy Corps 'Communities Acting Together to Advance Linkages Yielding Social Engagement' (CATALYSE) approach and successes and lessons learned across North Syria, discussion will focus on how centering community voices can lead to effective and impactful community and governance systems in Syria. Attendees will be able to hear direct examples from project participants inside Syria.
The event will be designed to raise awareness about the approaches and processes for driving community-led change in Syria for a more sustainable response. It will also provide a platform for networking and sharing best practices among professionals and practitioners. The side event will include a 90-minute presentation and panel discussion; and a 60-minute drinks reception.
Mercy Corps concept note submission- Side event Brussels VII Conference 2023.pdf
You can subscribe to the event here.