World Humanitarian Day: Join #TheHumanRace to fight the climate crisis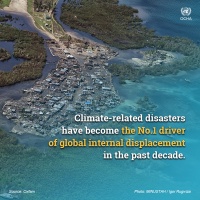 World Humanitarian Day (WHD) is celebrated every year on 19 August after the brutal bombing attack in Baghdad in 2003 where 22 aid workers lost their lives, including the Special Representative of the UN Secretary General to Iraq, Sergio Vieira de Mello. Since then, the day has become an occasion to honour the life-saving role aid workers have in supporting crisis-affected people and to shed a light on the humanitarian crisis all over the world.
For this World Humanitarian Day, the UN and its partners have decided to focus on the climate crisis and on the disruption it creates on the most vulnerable. The aim is to create a global climate race challenge, the #HumanRace, to generate awareness on the urgency to address the climate crisis, promote action for those impacted the most by its consequences, and build pressure to take to global leaders at COP 26.
Hosted on the leading exercise app Strava, #TheHumanRace will challenge users around the world to run, ride, swim, walk or do any activity of their choice for a cumulative 100 minutes between 16 and 31 August in solidarity with the world's most vulnerable people. Anyone unable to take part physically can also sign up to support our call to action via the campaign website.
VOICE will promote the World Humanitarian Day 2021 and #TheHumanRace campaign on our communication channels with a particular focus on our NGOs members' work on preventing and addressing the challenges caused by the climate crisis to the most vulnerable communities.

#TheHumanRace culminates in the week of World Humanitarian Day, 19 August.
In the race against the climate crisis, no one should be left behind, including those already facing humanitarian crises.
And you? Would you join the Human Race?
Find here the link to the Strava Challenge to participate!