Responding to Violence against Humanitarian Action on the Policy Level: download and share the toolkit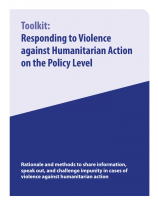 The Working Group on Protection of Humanitarian Action, an initiative gathering more than 20 partners and co-led by the Advanced Training Program on Humanitarian Action (ATHA) at the Harvard Humanitarian Initiative (HHI) and Action Against Hunger (Action contre la Faim), is pleased to share with you the Toolkit: Responding to Violence against Humanitarian Action on the Policy Level.
The purpose of this toolkit is to offer guidance and support to humanitarian actors for responding to violence against humanitarian action, in order to promote a more protective environment for the provision of humanitarian aid to civilians. It aims to complement and strengthen operational and security responses to acts of violence or incitement to violence against the humanitarian mission, or humanitarian organizations' personnel, facilities, assets, and activities. A few examples of such violence include bombing, shooting, murder, rape and sexual assault, armed robbery, abduction, hostage-taking, kidnapping, harassment, and illegal arrest and detention, whether against national or international staff of local or international NGOs, United Nations (UN) personnel, first responders, or healthcare providers. It also includes attacks on humanitarian convoys or acts of destruction and looting of their assets.
Attacks against humanitarian actors and operations endanger lives; violate the protection of civilians, including humanitarian actors, under international humanitarian law (IHL); and jeopardize the provision of life-saving aid where it is needed most. Moreover, such violence represents a particularly serious manifestation of denial or hindrance of humanitarian access and assistance to populations in need – a threat that has become dangerously normalized in certain conflict settings.

We invite you to circulate this document widely throughout your organization and with your partners, more particularly your local teams and partners, who are most exposed to violence in humanitarian settings.