MFF 2021-2027 and 2019 EU budget: VOICE Statement with key recommendations!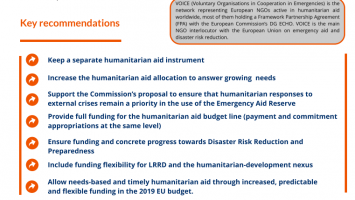 Following the release by the European Commission(EC) of its proposal for the next Multiannual Financial Framework (2021-2027) and on the EU 2019 budget, the VOICE network has drafted a statement with remarks and recommendations addressed to the EU member states and the European Parliament, concerning the EC proposals.
The document reflects and strengthens the main messages included in the earlier position paper (February 2018):
Keep a separate humanitarian aid instrument
Increase the humanitarian aid allocation to answer growing needs
Predictability: Provide full funding of the EU aid budget line (commitments and payments at the same level)
Flexibility: Ensure priority access to the emergency aid reserve.
This new advocacy document includes additional elements on:
Disaster Risk Reduction, resilience and the humanitarian-development nexus in the next MFF,
the 2019 EU annual budget which is now under preparation by the EU institutions.
Please download and share the VOICE Statement on the next Multiannual Financial Framework and the 2019 EU budget!!!