Israel-Palestine: humanitarian crisis situation and VOICE members' statements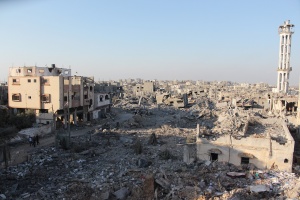 First published 13/10/2023
Updated 28/11/2023
On 7 October 2023, Palestinian armed groups launched an attack on Israel attacking Israeli forces as well as civilians and civilian infrastructure and towns. Afterwards, Israeli authorities launched an attack on the Gaza Strip which increased a dire humanitarian situation for a population that was already living in a humanitarian crisis.
Due to the siege imposed by Israel, the residents of the Gaza Strip have no electricity or fuel supplies. Access to drinking water has been interrupted as the water supply system has been damaged by air strikes. As a result, health facilities are completely overwhelmed, and access to them is hampered by the conflict and damaged roads.
On 13 October, Israel issued an ultimatum on Gaza residents to evacuate to Southern Gaza within 24 hours. Meaning that 1.2 million civilians would have to evacuate their homes in just a few hours. This ultimatum of forcible transfer is contrary to international humanitarian law.
On 16 October, following the escalation of the conflict, the European Commission announced an immediate increase of the humanitarian aid envelope for Gaza to a total of over 75 million euros. At the same time, to facilitate the delivery of aid in Gaza, the Commission launched an EU Humanitarian Air Bridge that will help bring supplies in Egypt to be delivered in Gaza by humanitarian organisations.
On 17 October, Al Ahli Arab Hospital in Gaza was targeted by a strike, reportedly killing hundreds of patients and civilians seeking shelter from the ongoing conflict. This represents a new deliberate breach of international humanitarian law at a moment at which the number of casualties reached 4,300 since the escalation of the conflict.
Calls for an immediate ceasefire and to let aid into Gaza through humanitarian corridors have not stopped growing in the last few days, as the situation in the Gaza Strip has become even more severe. On 19 October, an airstrike hit the grounds of Saint-Porphyry Church in Gaza, where hundreds of civilians were taking refuge. At least 17 were killed, including a Caritas colleague who lost her life.
On 21 October, the Rafah crossing between Gaza and Egypt opened for the first time since 8 October. However, the amount of goods that crossed the border is equivalent to about four percent of the average of those imports before the escalation of the conflict. This makes it imperative to increase the access of aid to cope with the needs of the affected populations.
As access of aid remains highly limited through the Rafah crossing, water, food, and fuel supplies among others are running out. UNRWA, the largest humanitarian provider in Gaza, alerted that they will be forced to halt their operations unless fuel is allowed inside Gaza immediately. In sight of the distressing situation in Gaza, calls for a ceasefire continue mounting, not only among NGOs but also within the EU and UN.
On 1 November, the Rafah Crossing between Gaza and Egypt opened for the movement of people, allowing the evacuation of wounded Palestinians and foreign passport holders. However, the entry of fuel is still banned by the Israeli authorities, which is pushing hospitals to halt their operations as they run out of fuel, such as the Turkish-Palestinian Friendship hospital in Gaza, which has been forced to stop most of its activities.
Due to the advance of the Israeli offensive, Gaza city has been cut off from northern Gaza, impeding the delivery of humanitarian aid from the south to about 300,000 internally displaced persons (IDPs).
One month after the hostilities started in Gaza, the fatality toll has surpassed 10,000, including 4,008 children and 2,550 women, according to the Ministry of Health in Gaza. At the same time, the number of internally displaced people is about 1.5 million people, which is generating a deteriorating sanitary situation due to overcrowded spaces.
As a result of the lack of power, medical consumables, oxygen, food and water, most hospitals in Gaza cannot operate normally any longer. As of 14 November, 22 out of 36 hospitals in Gaza were non-functional, while only one of the hospitals in Gaza city and northern Gaza, the worst affected area, remain operational at a minimum level. Fuel shortages are also gravely impacting the distribution of aid and the operation of data centres from telecommunication companies.
The situation of health facilities remains critical as the only three functional hospitals in Northern Gaza keep being attacked by Israeli forces. On 22 November, almost 200 wounded and sick people were evacuated from Shifa Hospital to health facilities in the south. Some 250 patients and staff members are estimated to remain at Shifa, which is no longer operational. In the south, 7 facilities out of a total of 11 are still functional, while only one hospital has the capacity to treat critical trauma cases or perform complex surgery.
In response to the situation, several VOICE members have issued statements asking to put an end to the hostilities and to respect international humanitarian law: