Concern Nutrition for Growth Summit side-event (webinar)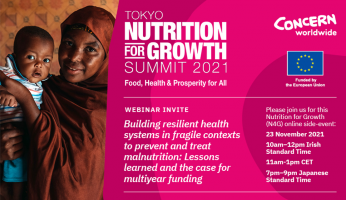 On 23 November Concern will host a side-event (webinar) as part of the Nutrition for Growth Summit. This webinar will explore how resilient health systems can be effectively strengthened to prevent and treat malnutrition with 'Quality Funding' (that is multi-annual, flexible and predictable funding), through a combination of presentations from experts followed by a panel discussion.
It will draw on lessons learned from several years of work focused on building the resilience of nutrition services, and will include speakers from Irish Aid, the Ministry of Public Health of Niger, Concern Worldwide, and the European Commission. To find out more and register, click here.