10 YEARS OF THE EUROPEAN CONSENSUS ON HUMANITARIAN AID: 10 ACHIEVEMENTS FROM AN NGO PERSPECTIVE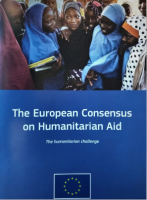 2017 marks the tenth anniversary of the European Consensus on Humanitarian Aid , the first comprehensive policy framework at EU level on humanitarian aid.
Signed the 18 of December 2007 by the Council, the EU Member States, the European Parliament and the European Commission, it remains the key document guiding the European Union's and Member States' approach to humanitarian aid.

To celebrate this important statement for Humanitarian aid, we have highlighted the 10 main achievements of the Consensus implementation from an NGO perspective.