World humanitarian day : #RealLifeHeroes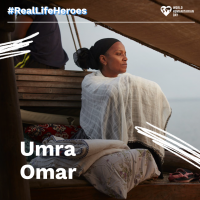 The World Humanitarian Day (WHD) is celebrated every year on August 19 to raise awareness about people affected by humanitarian crises and pay tribute to aid workers who are constantly striving and risking their lives to support them. This day was designated in memory of the 19 August 2003 bomb attack on the Canal Hotel in Baghdad, Iraq, killing 22 people, including the chief humanitarian in Iraq, Sergio Vieira de Mello. In 2009, the United Nations General Assembly formalized the day as World Humanitarian Day.
For this World Humanitarian Day, the U.N. and its partners will focus on what drives humanitarians to continue to save and protect lives despite conflict, insecurity, lack of access and risks linked to COVID-19. The campaign presents the inspiring personal stories of humanitarians aid workers who are treating and preventing COVID-19, providing food to vulnerable people in need, providing safe spaces for women and girls in lockdown; delivering babies; fighting locusts and running refugee camps, all amid the COVID-19 pandemic.
The Directorate-General for European Civil Protection and Humanitarian Aid will join the #RealLifeHeroes campaign with the objective of promoting the WHD recognising the work of humanitarian workers who, despite difficult times, are helping those in need and raining awareness on the Humanitarian issues in 2020.
Please follow us on twitter at @VOICEEu_, join the #RealLifeHeroes campaign!