VOICE out loud 35 - Localisation: Exploring a multifaceted agenda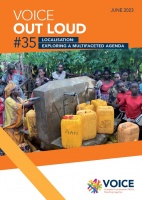 Over the last years, calls for humanitarian agencies and donors to be 'as local as possible, and as international as necessary' have dominated debates and discussions. While progress has been made in advancing localisation approaches, more can be done to ensure equitable partnerships and participation.
This edition of the VOICE out loud magazine offers an insight into the perspectives of some of our members in relation to their localisation approaches considering their longstanding experience of working in partnerships with local and national organisations.
In this edition, Christian Aid highlights the progress that has been made on the localisation journey and outlines what more needs to be done to accelerate progress on the topic. EU CORD describes the key role of donors in enabling local actors in humanitarian response through funding, recognition, and organisational development.
The importance of capacity sharing and mutual learning between local and international actors is highlighted by Trōcaire, while People in Need looks at the principle of neutrality and local actors in the Ukrainian conflict. At the moment, INGOs feel that they carry the burden of legal and compliance risks in establishing partnerships with local and national organisations. As such, the article from Oxfam is timely as it delves into the need for broader risk sharing as a precondition of more widely advancing localisation.
The article in our "A closer look" section describes the work of Telecom Sans Frontières in reconnecting communications and lives after a disaster or a conflict. Last but not least, our interview section features the Eminent Person of the Grand Bargain 2.0, Jan Egeland, who shared with us some news about the future of the Grand Bargain!
Click here to read and download the new VOICE Out Loud!