One World Film Festival: Conversations with Alliance2015 EU Aid Volunteers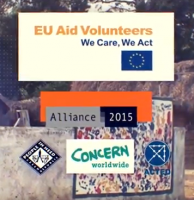 ACTED, Concern Worldwide, People in Need and Alliance2015 welcome volunteers and interns who are looking for an opportunity to contribute to humanitarian action and to achieve quality operations and impact in the field. They are looking for hardworking, dynamic, proactive, committed young professionals who are eager to learn and improve practices. Come and hear stories and reports from Alliance2015 EU Aid Volunteers following their overseas deployment and explore options and opportunities for building your future in the humanitarian sector. Please find more information here.
This event is part of the One World Film Festival. Film: Before Father Gets Back (Georgia).
Discussion: Antonia Potter Prentice, Director of Alliance2015 and EU Aid Volunteers. This will be followed by a light reception and opportunity for networking.
19.00-21.30, 25 APRIL 2019 at Prague House, Avenue Palmerston 16, 1000-Brussels, Belgium. Please register here.